When it comes to building a great company website, there are many factors that go into the design. Much of it hinges on the company or designer's preferences, which deliver a myriad of unique website interfaces. However, there's one convention that every website builder should stick to if they want to build a website that converts: excellent imagery.
If you're still looking for a reliable web host provider with affordable rates, why you don't take a little of time to try
iPage
, only with
$1.89/month
, included
$500+ Free Extra Credits
for the payment of
24 months ($45)
?
Over 1,000,000+ existisng customers can not be wrong, definitely you're not, too! More important, when you
register the web hosting at iPage
through our link, we're going to be happy for resending a
full refund
to you. That's awesome! You should try
iPage web hosting for FREE
now! And contact us for anything you need to know about
iPage
.
Try iPage for FREE First Year NOW
If you're looking for something of high impact to focus your JavaScript efforts on, images are a good place to start. They play a powerful role in the user experience by boosting engagement and enticing the visitor to return. If you're not convinced that high quality images should be the foundation of your website, here are a few excellent reasons that should change your mind.
1. The brain processes images 60,000 times faster than it processes text.

image by thenextweb.com
You've heard the saying that a picture is worth a thousand words, but according to marketing statistics, it's worth closer to 60,000. Research shows that 90 percent of the information sent to the brain is visual and that 93 percent of all human communication is visual. As a result, the brain processes words much faster than text, which spurs engagement and increases a consumer's aptitude to your website.
2. Customers are 65 percent more likely to remember information when it's presented in images.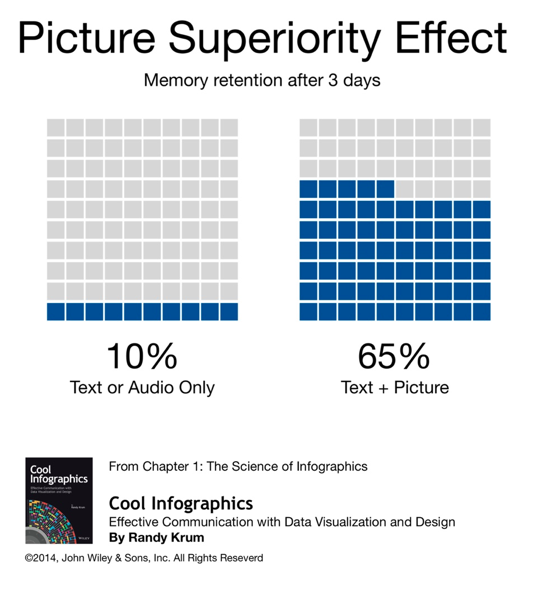 image by huffingtonpost.com
A study from LifeLearn shows that only 10 percent of those who hear information remembered it three days later, but 65 percent of those who saw it remembered it in the same amount of time. Images provide a more efficient way to process information, which increases website interactions.
3. 67 percent of customers rank the value of a product image as "very important" when selecting and purchasing a product.
Product images sell products, as this statistic clearly demonstrates. Whether you're showcasing a pair of shoes or posting high quality listing photos to sell home, you can expect increased questions about products, more purchases, and repeat customers.
4. Content with relevant images receives 94 percent more views than content without relevant images.

image by kissmetrics.com
In the old days of website building, any kind of image would suffice to attract the customer and make your information seem more appealing. Since that time, consumers have become far choosier about the kinds of content they're willing to engage with. The images must be both relevant and high quality if you want to receive consistent readership and interaction on your website.
5. When an image shows up in the search results for a website, 60 percent of consumers say they will contact or consider the business.

image by searchinfluence.com
Images effectively grab the user's attention and draw the eye to the associated business. These images will appear in search results if they're scattered throughout your website, on both landing pages and blog content. This leads to a boost in the website's page views, as well as contributing to more purchases and repeat customers.
Takeaway: Using images in website production is essential for increased interactions and conversions. If your website is lacking in the photo department, now is the time to make the changes and improve the day-to-day exchanges with your site.
---
Author
Phong Thai is a Web Developer, Web Coder for 19 years with PHP, JavaScript, CSS. He is the creator of JavaScriptBank.com - provide thousands of free JavaScript code examples, web development tips and tricks, helpful blogging guides.

Follow him on twitter@js_bank or connect with him on facebook@jsbank if you want. His websites for your knowledge: javascriptON.com, inOneSec.com, www.gomymobi.com
Info
Stats
Ran?
Rated?
Stored?
2652 in
Main categories
Tutorials
All categories
JavaScript by day