With the phenomenal growth of the internet in recent years and the sheer number of companies now offering products and services online, you may be looking to start your own e-commerce website or to bring an existing company into the online arena. It doesn't matter which. What matters is that you understand just what it takes to design, develop, and operate a successful e-commerce website.
Nếu bạn vẫn còn đang tìm kiếm một nhà cung cấp hosting đáng tin cậy, tại sao không dành chút thời gian để thử với
iPage
, chỉ với không quá
40.000 VNĐ/tháng
, nhưng bạn sẽ được khuyến mãi kèm với
quà tặng trị giá trên 10.000.0000 VNĐ
nếu thanh toán cho
24 tháng ~ 900.000 VNĐ
?
Có trên 1 triệu khách hàng hiện tại của iPage đã & đang hài lòng với dịch vụ, tuyệt đối chắc chắn bạn cũng sẽ hài lòng giống họ! Quan trọng hơn, khi
đăng ký sử dụng web hosting tại iPage
thông qua sự giới thiệu của chúng tôi, bạn sẽ được hoàn trả lại
toàn bộ số tiền bạn
đã sử dụng để mua web hosting tại iPage. Wow, thật tuyệt vời! Bạn
không phải tốn bất kì chi phí nào
mà vẫn có thể
sử dụng miễn phí web hosting chất lượng cao tại iPage
trong 12 tháng đầu tiên. Chỉ cần nói chúng tôi biết tài khoản của bạn sau khi đăng ký.
Nếu muốn tìm hiểu thêm về ưu / nhược điểm của iPage, bạn hãy đọc đánh giá của
ChọnHostViệt.com
nhé!
Thử iPage miễn phí cho năm đầu tiên NGAY
Here are five elements you absolutely must understand. And gomymobi.com is the easiest way to create, buile & operate an online store quickly.
1. Content Is Still - and Always Will Be - King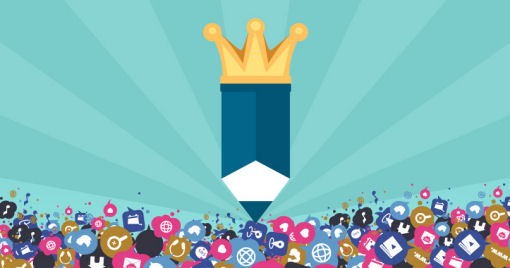 image by iblogzone.com
Before going any further, the one thing you must understand right out of the gate is that content is and always will be king when it comes to running a successful e-commerce site. In fact, any website is only as good as the content it publishes and that is something you can take to the bank. In the early days, you were likely to find web pages filled with what now amounts to SEO clouds, but there was nothing of any value, page after page. You wouldn't get away with that today because no one would find you! Google ranks well-written, informative content highly and unless you are willing to spend the money to hire professional copywriters or web developers, you might as well throw in the towel.
2. Responsive Web Design Is Vital

image by infront.com
Then there are all those hundreds of millions of smartphone users in North America that access the internet on mobile devices. If you cater to a mobile audience, you are looking at billions of consumers, and that isn't something you should take lightly. More than 125 million people access the web from mobile devices in the United States alone, and as many as 62% of those have made purchases from their mobile devices.
3. Visual Appeal & Ease of Navigation

image by easywebcontent.com
These two elements often go hand-in-hand. A visually appealing site is most definitely professional in its presentation, but one of the main benefits of a site that is easy to view is the ease of navigation. If visitors land on your page and are looking for products or information much like they would look for a needle in a haystack, you can probably count them a total loss. They'll bounce right off as quickly as they landed there - at the speed of light.
4. User-friendly Checkout Process
This is going to be another very important element for an e-commerce website. Did you know that many people abandon shopping carts when they've chosen something they really, really want because the checkout process is too involved? The leading reasons why so many people abandon their shopping carts, according to Shopify are:
The checkout process is too complicated
They are asked to create an account before finalizing a transaction.
Misleading or unexpected costs in shipping/delivery.
Questions about the security of the site.
It might be wise to say a few words about the need to create an account before checking out. While it is important for the business owner to know who is paying and such things as where it will be shipped, customers don't want to take a huge amount of time checking out. They simply want to pay and go. There are ways to circumvent this issue with alternate ways of checking in. Why not let them log in with a Facebook account, for example, and then they can simply go to the shopping cart, enter payment information, and they are good to go. Some sites even allow a "one-click" log-in/payment feature when linked with PayPal. This not only eases the process for consumers but is invaluable for businesses as well.
5. Elements of Engagement
This is where you may be wondering how a business could benefit from giving the consumer the ability to use their social media or PayPal info as a login. How can being linked to social media or an eWallet help them other than to reduce shopping cart abandonment? Here's how! Those social sites and eWallet accounts have an email address linked to them. Once they've logged in via those methods, the merchant then has access to that customer's email address.
The Whole Package or Nothing
Consider for just one moment what ongoing emails and follow-ups can do to grow your customer base? Platforms like sendinblue offer a highly cost-effective MailChimp alternative that can utilize the information for follow-ups, regular email newsletters, or even for special promotions or holiday greetings. Customer retention is a vital feature of any business and even more important to an e-commerce site that has so much more competition than a local brick-and-mortar shop.
So, when you look at all the elements of an e-commerce site, you need to understand that it takes all of these elements to make it work. It may sound a bit severe, but it really is the whole package or nothing. Especially important are those email follow-ups because that's something so few companies of today think to do. Are you looking to make a success of your e-commerce site? Then you really do need at least a minimum of each and every one of these critical elements. You can take that to the bank.
---
Tác giả
Thái Cao Phong theo chuyên ngành phát triển, lập trình web hơn 9 năm qua, đã & đang làm việc với PHP, JavaScript, CSS. Anh ấy là sáng lập viên của JavaScriptBank.com & 9BlogTips.com - cung cấp hàng nghìn mã nguồn JavaScript miễn phí, các thủ thuật lập trình web và các hướng dẫn blog hữu ích.

Hãy theo dõi anh ta tại twitter@js_bank hoặc kết nối qua facebook@jsbank nếu bạn muốn.

DanhNgon.info - Lời hay ý đẹp dành cho cuộc sống
ChonHostViet.com - Đánh giá hosting với gói ưu đãi miễn phí 1 năm đầu
https://tooly.win
Open tool hub for free to use by any one for every one with hundreds of tools
chatGPTaz
Voice chat comning soon. You could talk to ChatGPT and hear the most intelligent AI speaks very soon
Thông tin
Chung
Xem?
Bầu?
Lưu?
Top 10
Mới
Xem
Hạng
Lưu
Bình
Gởi
2652 trong
Danh mục chính
Bài viết
Tất cả
JavaScript theo ngày